We love a good July 4th BBQ! From flag cakes to Old Navy flag shirts, everything is red, white and blue and that should include your cocktail.
Here are some fun recipes from our favorite brands.
Pinnacle Citrus-Spangled Spritzer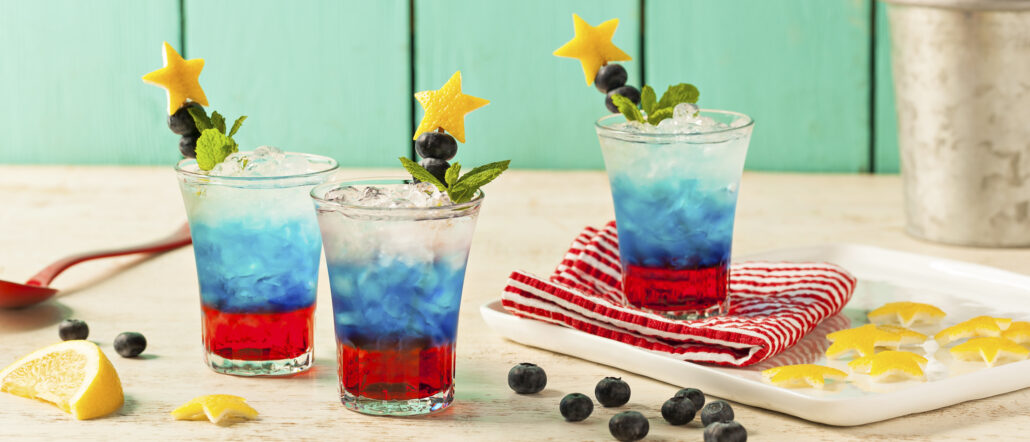 1 part Pinnacle Citrus Vodka
1 part DeKuyper Blue Curacao Liqueur
2 parts Lemon Soda
1 part Grenadine
Lemon for garnish
Blueberries for garnish
Mint Sprig for garnish
Lightly mix the vodka and lemon soda in a cocktail shaker with ice and set aside. In a tall glass, add the grenadine slowly to the bottom. Fill the glass with crushed ice. Strain the vodka soda mixture over the back of a bar spoon, followed by the blue curacao. Garnish with fresh mint, lemon rind star and berries (optional).
Svedka's Suddenly Summer
In a rocks glass, add 1 oz. watermelon schnapps and 1/2 oz. cranberry juice over ice. Add 1/2 oz. lemon juice, 1/2 oz. simple syrup, and 1/2 oz. Svedka. Finally, layer 1/4 oz. Blue Curacao to create the color separation and gently top with club soda. Garnish with fresh watermelon pieces.

In a pitcher, add 2 cups Svedka, 1/2 cups Orange Curacao, 1/2 cups simple syrup, 1 cup fresh lime juice, and a dash of grenadine. Top with ice and garnish with blackberries and mint.
Izze's Cherry Lime Float
In a milkshake glass, add 1 oz. rye whiskey, 1/2 oz. rum cream, and 1 scoop cherry ice cream. Top with 2 oz. Izze Sparkling CherryLime, and garnish with whipped cream and a cherry.
Pop Rock Punch
Turn summer drinks into firecrackers by coating the glass rims with Pop Rocks. Just dampen with lemon juice, then dip the rims in the candies on a plate. To get the red-white-and-blue effect, use Tropical Punch (blue) Pop Rocks, then fill the glasses with any red drink or cocktail; we mixed pomegranate and cranberry juice with seltzer.
Photograph by Levi Brown
Toby Keith's All-American Jar
Ingredients:
2.25 oz Wild Shot Silver Mezcal
1 oz Coconut Rum
.25 oz Triple Sec
.25 oz Pineapple Juice
1 cup Piña Colada Mix
1 cup Strawberry Daiquiri Mix
1.25 cups Crushed Ice
Preparation:
In a blender with ice add Wild Shot Silver, Malibu Rum, Triple Sec, pineapple juice and piña colada mix. Blend until thick. Pour half of blender in separate glass, then add Strawberry Daiquiri Mix to blender. Blend until mixed and pour blended strawberry mix into mason jar. Add the separate glass of blended product to the mason jar.
Van Gogh Vodka's Feeling Blue
1-1/2 oz of Van Gogh Blue Vodka

1/2 oz Orange Liqueur

1/2 oz Blue Curacao

1 oz Orange Juice

2 Splashes of Sour Mix
Build all ingredients in a rocks glass with ice. Garnish with a wedge of orange.